Definition
Income includes money earned through wages, salaries, or tips, or through self-employment.
Income supports includes a wide range of public benefits, including Social Security, Supplemental Security Income (SSI), Unemployment Insurance, the Earned Income Tax Credit, Pell Grants, Child Care Subsidy, and Temporary Assistance to Needy Families (TANF). Income supports such as the Housing Choice Voucher Program, the Supplemental Nutritional Assistance Program (SNAP), and the Women, Infants, and Children (WIC) program help families meet their basic needs of food and housing. Programs such as the Low-Income Home Energy Assistance Program (LIHEAP), the Low Income Household Water Assistance Program (LIWAP), and the Weatherization Assistance Programs assist families with utility costs. Families may receive health insurance benefits through programs such as Medicaid and the Children's Health Insurance Program (CHIP). Families receiving income supports must meet eligibility requirements as determined by each program.
Why Is This Important?
Federal assistance programs are designed to help lift people out of poverty and ensure that their basic needs are met. Research shows that these programs are effective in reducing poverty, increasing employment rates, improving children's education and future economic outcomes, reducing the number of uninsured, and increasing health outcomes. These benefits are not limited to individuals receiving assistance, but extend to their employers, local businesses, and communities as well.
As individuals gain health insurance, they are able to access preventative care, thereby decreasing the costs associated with diagnosis and treatment of conditions in the more advanced stage, which, in turn, decreases overall health care costs for everyone. In addition, employers benefit from increases in productivity when their employees are healthy and receiving preventative care. And, as individuals and families become more economically stable, they are able to contribute more to the local economy, stimulating business expansion, job growth, and local tax revenues.
Sources:
1. Sherman, A., Trisi, D., & Parrott, S. (2013, July 30). Various supports for low-income families reduce poverty and have long-term positive effects on families and children. Center on Budget and Policy Priorities. Retrieved October 28, 2021.
2. Increasing access benefits everyone: Health consequences of being uninsured. National Immigration Law Center. (2017, August 28).
3. Increasing access benefits everyone: Economic consequences of being uninsured. National Immigration Law Center. (2017, August 28).
How We Impact
CMCA's Theory of Change is based on the idea that when families succeed in the areas of family well-being, economic stability, and social connections, they are more likely to be resilient and to become self-sufficient. CMCA's approach to service delivery incorporates this theory through internal collaboration, allowing a family to receive multiple services to support them on their path to self-sufficiency. Economic stability involves education and skills, quality employment, income and assset building, and safe and stable housing.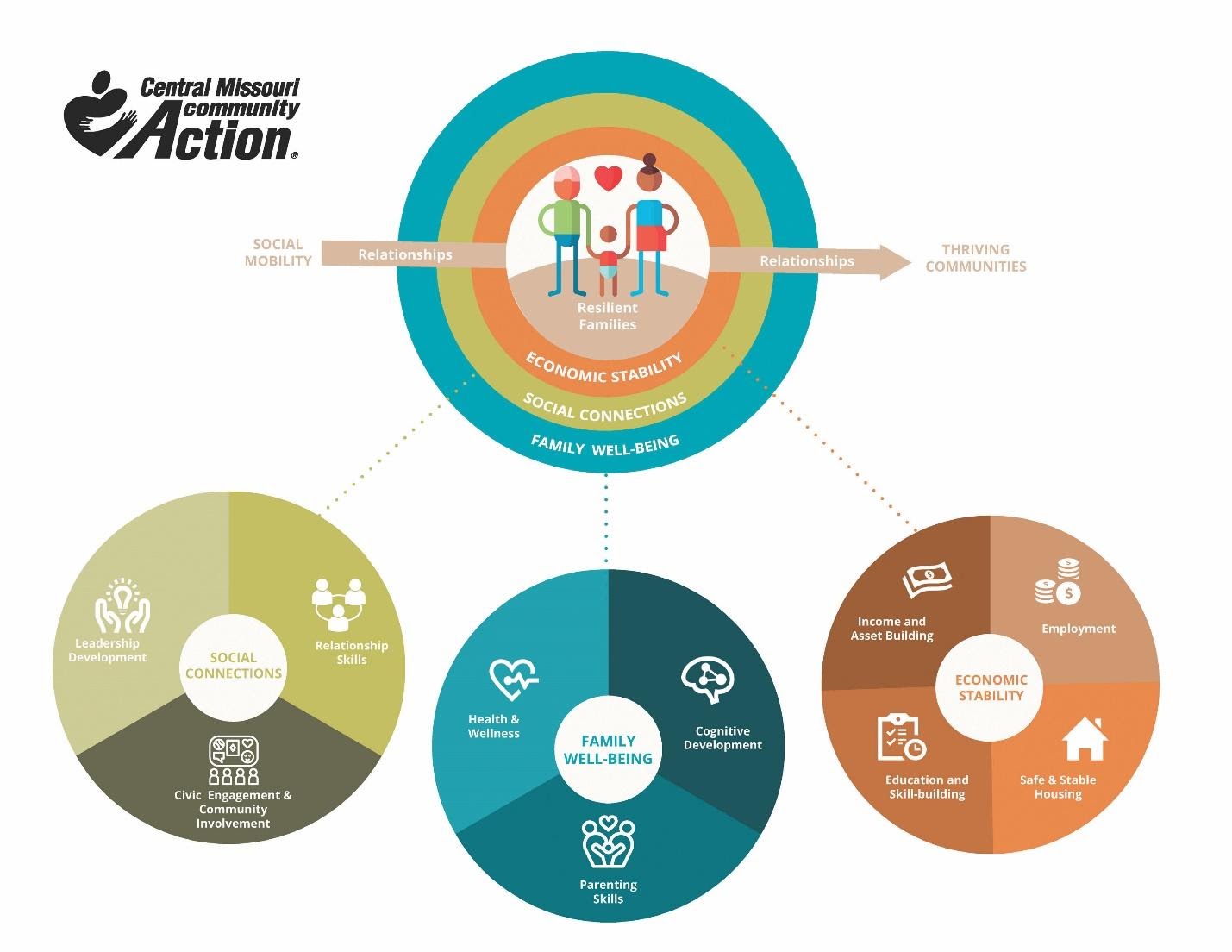 CMCA's Theory of Change is embedded into all aspects of our work. When families have a strong sense of family well-being, have built social connections, and experience economic stability, they become resilient to the ups and downs of life. These families are more likely to become self-sufficient, positively impacting their own lives and the communities in which they live.
To assist families in gaining economic stability, CMCA offers employment coaching and financial coaching through SkillUP, the Financial Opportunity Center, Head Start, and BRIDGE. Through these programs, CMCA members receive the education, skills training, and individualized supports they need to meet their employment and financial goals. CMCA staff also assist members in applying for income supports such as child care assistance, SNAP (food stamps), disability, Supplemental Security Income (SSI), child support, and other benefits for which they eligible. CMCA helps families reduce housing-related expenses through energy and water assistance programs, the Weatherization Assistance Program, and the Housing Choice Voucher program. Together, these programs and services support families in gaining the skills and supports they need in order to build their resiliency and reach self-sufficiency.